Friday is usually a type of sabbath – a day we don't have to worry about Europe's two biggest club soccer competitions. Unfortunately, the Champions and Europe Leagues occasionally have to hold draws, determine match ups and stretch beyond their Tuesday-through-Thursday mandates to destroy our Friday. Because when a bunch of rich guys fly to Nyon to play with ping-pong balls, they're not going to work weekends.
This is supposed to be a day of transition, one that allows us to reset our minds for league soccer. Sure, France, Germany, and Spain have Friday games, but nobody cares about those. We wait for the scores, use those as a reminder that the weekend's on the way, and then go about trying to wait out the work week in our cubicles. We certainly don't need every soccer site we follow blowing up our Twitter timelines with draw-by-draw coverage.
If you're a smart fan, you scrolled through all that to get to the part that matters: the actual quarterfinal match ups. Champions League gave us a rematch of last year's final, while Europa gave us its own finals-quality match, one pitting a surging Bundesliga side against a coach whose already won two versions of the competition.
But let's not get too far ahead of ourselves. First, the draws; then, the serious talk: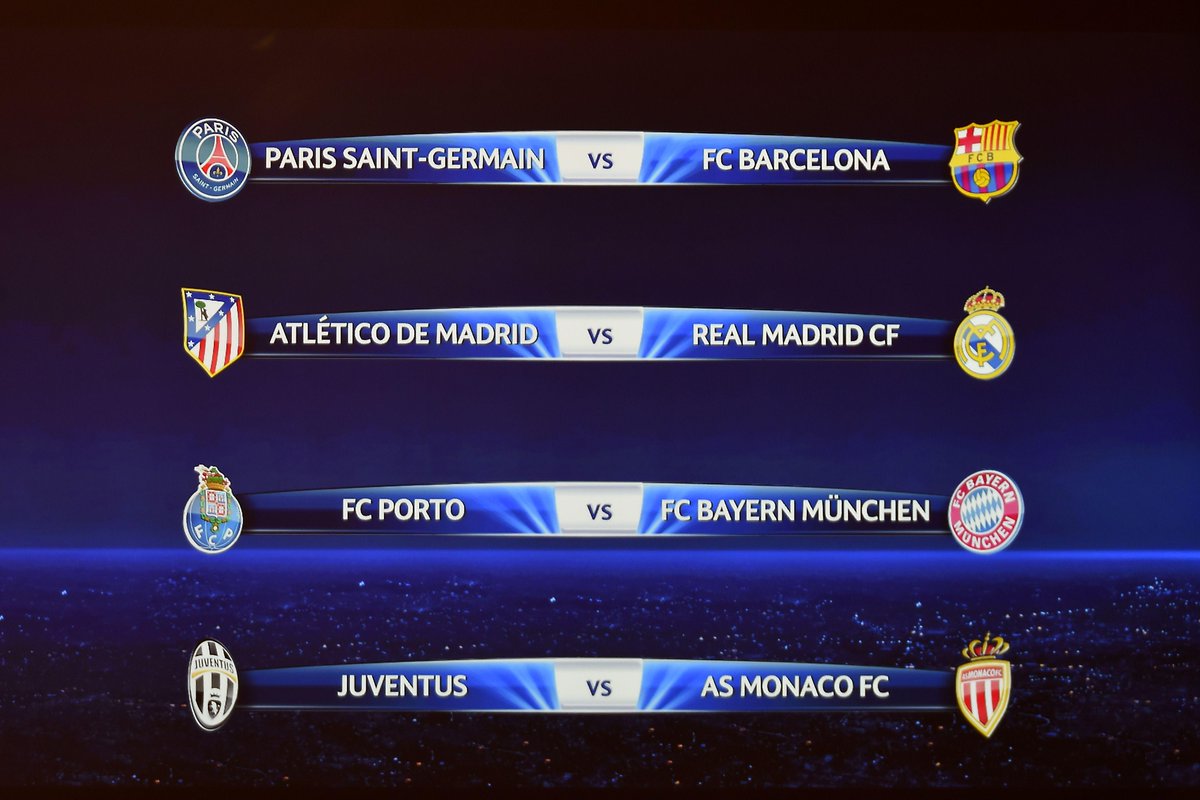 1. Two more Madrid derbies is a best-case scenario – Just as with this weekend's Clásico, people will bemoan another matchup between Atlético and El Real. The unintended implication: there's such a thing as too much good soccer.
Perhaps that's true, but as you're slogging through another weekend of terrible Premier League play before pretending you like the international break, know that since Diego Simeone's return to the Calderón, the Derbi Madrileño has consistently given us some of the best games in European soccer.
Complaining about it would be like complaining about more Mad Men episodes. But I hear people do this.
2. Barcelona lucked out – Zlatan Ibrahimović never does anything in Europe, in big games, against big teams … is what we're supposed to say, but put yourself in Luis Enrique's shoes, then give yourself a magic button that would re-draw the quarterfinals. Would you rather take the chance of getting Bayern, Juventus, or another La Liga side? Or would you take PSG, a team you've beaten in recent Champions Leagues, firm in the knowledge your opponent's best player will miss leg one? This was a great draw for Barcelona.
3. Italian soccer be happy – We know Italy doesn't root for Juventus, but between clenched teeth, it can still be happy that a Serie A team is likely to make the semifinals, pile on UEFA coefficient points, and continue building that time machine that will take the league back to four Champions League spots. As Arsenal found out the hard way, AS Monaco is no pushover, but the fourth place team in France is not a matchup anybody should rue a Champions League quarterfinal.
4. Poor FC Porto – As Jack Sergeant described, teams like Porto can usually make the Round of 16, hope for a good draw, and if everything falls into place, put off reality until the quarterfinals. That reality has finally arrived.
Bayern's coming off a 7-0 win over another club on Porto's level, Ukrainian overlords Shakhtar Donetsk. If Porto advances, it would be one of the biggest upsets in the competition's recent history.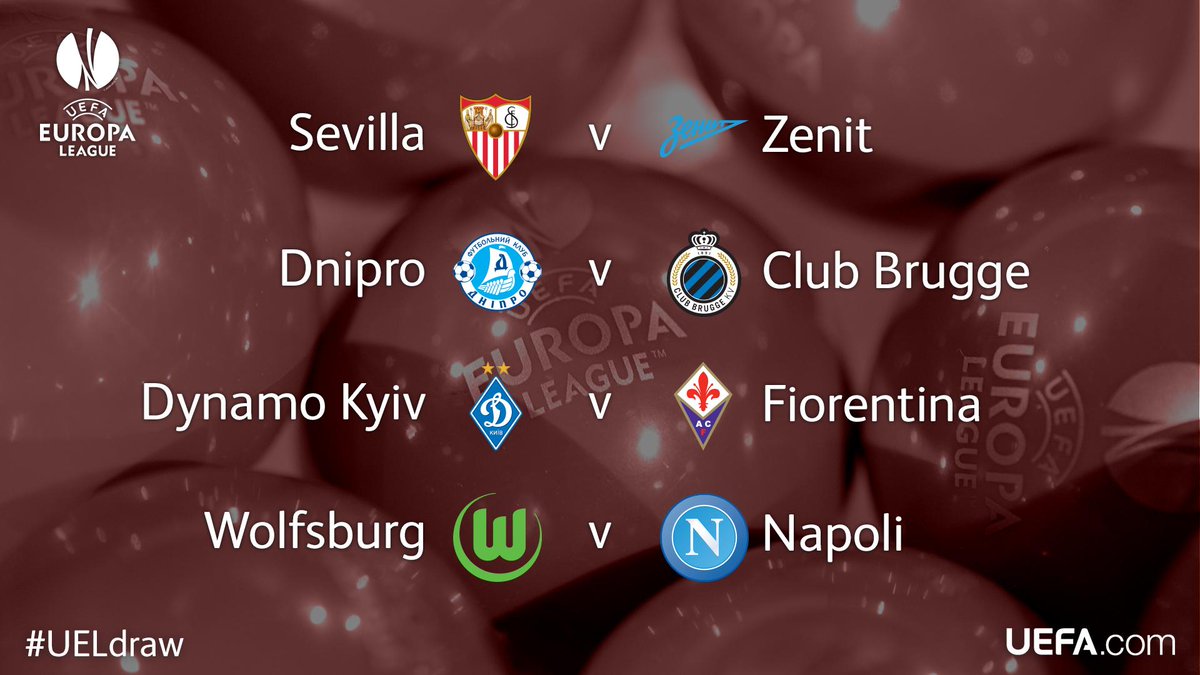 1. Ukrainian and Russian teams still kept apart – Because of the annexation conflict in southwestern Russia eastern Ukraine, UEFA's trying to keep Russian and Ukrainian teams. If it can do so until a final (if necessary), Warsaw will serve as a nice middle ground, though that may mean having Ukraine's two surviving teams play in the semifinals, if they get that far. Drawn against Belgium's Club Brugge and Italy's Fiorentina, both Dnipro and Dynamo have a chance to get through, though there's no clear favorite in any of these match ups.
2. Unai Emery returns to Russia – For the first time since flaming out with Spartak in 2012, Sevilla's boss will be returning to Russia, his reputation having been restored after returning to Spain to lead Sevilla to last year's Europa League title. As was the case back then, Zenit is still the Premier League's most talented team, with head coach André Villas-Boas having already won this competition with Porto.
3. Germany vs. Italy makes the marquee matchup – On the field, there may be little in quality that distinguishes the Sevilla-Zenit match from Wolfsburg and Napoli, but there's a subtext to the second that adds extra intrigue to the matchup. Ever since Germany snared Italy's fourth Champions League spot three years ago, there's been a thin, almost technocratic subtext when the Bundesliga squares off against Serie A. With England's struggles in this year's European competition (no teams in either Champions League's or Europa's quarterfinals), there's a new league most likely to lose a Champions League spot, but that reality will take a while to set in. For now, Napoli gives Italian soccer another small chance at payback.
4. Of course, there's a matchup nobody cares about – That's not to say Dnipro-Brugge will be bad, nor does it mean the competition should do anything to avoid these pairings. It's just the nature of, well, things. There's a finite amount of attention to give, and a matchup like non-Shakhtar Ukrainian side against non-Anderlecht Belgian club will always be overlooked. Part of Europa's charm makes match ups like these possible, but they're still playoffs we won't watch instead of Wolfsburg-Napoli … if we even bother watching that one.